CHAMPION VLADIMIR SAMSONOV
The story of a boy's journey to the top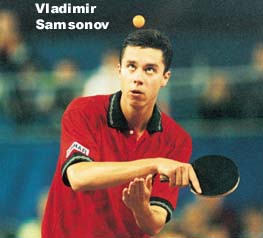 The 6 year old tiny tot Vladimir Samsonov happened to get into a sportshall in Minsk, his native city in the former USSR (today, capital of the Republic of Belarus) where table tennis players just practised. Polina Gorovskaja, the lady working with the table tennis group, wasn't an approved coach but was leading the group with a lot of affection and intelligence.
She soon recognized that there was a lot of talent in 'Vladi' - as he is now endearingly called by his German fans. Vladi's father also liked table tennis so he supported his interest in the sport and sometimes even played the game with his son. Soon, Polina Gorovskaja as well as Vladi's father felt that it would be better to give Vladi regular table tennis training. They went to the TT center and asked Aleksander Petkevich who felt that the 7 year old tiny tot who could hardly look over the table, was still too young to be integrated in the TT group.
However, the father insisted and Vladi finally was allowed to join the junior group who practised regularly under the supervision of a coach. Vladi remembers that in the very beginning there were about 10 boys and he was the youngest, by far. First, he practised 3 times a week with this group. Just two months later he participated in his first junior competition and nobody believed that Vladi only had two months of practice. The father continued to support his son as much as he could - he hardly had any idea of TT training -, asked the coach Alexander Petkevich for the training instructions and started to work with his son accordingly.
Later, during the summer break, the practice time was quite extended. Vladi almost played every day and the progress was visible from day to day. The next pathmaking step for Vladi was his nomination into the youth squad of the USSR. At the age of 10 the course of his table tennis career was now set: he practised in the TT centre of Dinamo Minsk and also went to the main TT centre in Moscow, were the best junior and youth players of the USSR practised together for 2 weeks every month. In Moscow, all participants of the training camp lived in the sports boarding school and teachers helped the boys to do their home-work and prepared them for the exams. In 1987, when he was only 11 years old, Vladi already participated at the European Junior and Youth Championships. At his first European Junior Championships, he immediately won the bronze medal.
The team became champion but he was merely substitute player. Further steps followed with the European Junior Championships in Novi Sad 1988 where he won his first medal in Junior Doubles and Mixed and in 1989 when he had his first big victory in Luxembourg: he became European Junior Champion in Singles. At that time, when he was still a tiny tot, the table tennis specialists of the world were already enthusiastic about his talent. At the age of 14, Vladi already got his first sports sponsorship, a usual practice in the USSR at that time. For young athletes of the national squad not only the training camp in Moscow, where they got additional lessons, was free of charge but then, even the parents got money for their son. Vladi's future was already laid-out! When Vladi appeared at his last European Junior championships in 1990 many players hardly recognized him anymore. Suddenly there appeared a tall, spindly and a little bit gawky player, not the tiny tot that he was in Luxembourg. Apparently, Vladi had problems with his arms and legs that had become so long all of a sudden. His game didn't appear anymore as easy and elegant as before and again soon after.
At the Semi Finals, Vladi surprisingly lost against his future best friend, the German European Junior champion Sascha K├Âstner. New European Junior champion, however became his team colleague Andrijanov. In the following year, 1991, for the first time Vladi participated at the European Youth Championships. In the Doubles, he already won two silver medals, in the Singles he was stopped in the third round. Certainly decisive for his further career were the European championships in Stuttgart 1992. The USSR didn't exist anymore and, for the last time, the athletes of the former Soviet Union played together under the name of GUS. After that, the Soviet countries split up into many independent States and Belarus was one of them. During the team games of his first European Senior championships, Samsonov most of the time sat on the bench but he had already drawn the attention of some large table tennis companies.
Even during the EC, Samsonov and his coach Alexander Petkevich agreed on a contract with TIBHAR. Now, everything went fast. Suddenly, Vladi's life was turned around. With the assistance of TIBHAR and the chief coach of the DTTB, Vladi came to the training centre of the German Table Tennis Union in Heidelberg. There, he began to live and practice together with a group of young players in the sports boarding house. The summer after the European championships in Stuttgart, Vladi won gold in Boys Singles at the European Junior championships in Topolcany (Slovakia). After that, he returned to Heidelberg. There, he lived and practised together with his friend Sascha K├Âstner who was considered biggest German talent and who also was one of his opponents for the medals at the European Junior championships. Although Vladi had already learnt German at school in Minsk, his knowledge of this language was quite poor.
Soon, however, the boy surprised with his knowledge of German. As he tells himself, he only learnt German with the help of the dictionary, the TV and the constant communication with his comrades in Heidelberg - and that perfectly! Vladi admits that the first year in Heidelberg wasn't easy. Being far away from home and his beloved parents and friends at the age of 15 wouldn't have been easy for any boy of that age. Further, it was hard for him when all German boys went back home to their parents and to play at tournaments over the weekends. So, Vladi stayed at the empty sports center alone with an Australian boy and a young player of Salvador and doesn't like to remember these weekends.
The people from TIBHAR recognized how difficult it was for this young boy. So, it was arranged in the second half of the season that he played in the regional league of Bayern M├╝nchen. Right from the beginning, Vladi became the darling of the spectators. The problem of the lonely weekends in Heidelberg was solved. Meanwhile, leading German clubs had heard about the fantastic talent of the former Soviet Union player practising in Heidelberg. The German national men's team often practised in Heidelberg and Vladi was always integrated in the training. German top players soon noticed the talent of this beanpole guy. At the end of his first year in Germany, Vladi once again won the European Junior championships in singles 1993 in Ljubljana (Slowenia) and left the juniors as most successful cadet and junior player of all times with 17 medals. Now, Vladi had to decide where he should continue to play. He didn't hesitate at all with his decision. And it was not the sum offered that was decisive for him but the future possibilities of development for his sport. So, together with his friend K├Âstner he went to Borrussia D├╝sseldorf, where he would earn less but where he had the best conditions for practising and the best training partners.
During his first year in D├╝sseldorf, his new club lent him to the second league Altena, where he gathered experiences at the week-ends while practising in D├╝sseldorf during the week. After one year already, he was taken away from Altena and incorporated in the team of Borussia D├╝sseldorf who is German record holder and repeated winner of the European Cup. Now, Vladi progressed tremendously. Starting 1994, Vladi won all possible titels in Men's teams with Borussia D├╝sseldorf. He soon became the Number 1 of the team and together with Ro├čkopf the most important player to gather points for his team. His friend K├Âstner, however, couldn't keep up with him. As player he just was a size too small for the leading European club's team. Soon he lost his place in the German national squad and left Borussia. Besides the successes with his club's team, Vladi was soon chasing medals at the European and World championships. In 1994, his first year, he already won his first medal with the Men - for the beginning, bronze in Men's double had to be sufficient. The next year he won the silver medal in the Men's doubles, 1996 gold in Mixed at the European championships, 1997 he was winner of the European Masters Cup, the Europe Top 12 and stood on the first place of the actual world ranking list. For Vladi, all signs continued to point for a steep career. During his career in table tennis, Vladi only had a few coaches.
His first real coach was Alexander Petkevich, then, in Heidelberg, mainly Eva Jeler took care of him for a year and after that Mario Amizic took him under his wings. Today, Mario Amizic still is coaching him in his club and also Alexander Petkevich - now chief coach of Belarus - still is Vladi's coach when he is travelling with the national team Vladimir Samsonov is a self-confident and intelligent young man. Meanwhile, he speaks fluent German and his English is already very good, even though he himself isn't satisfied at all, yet, and still wants to learn a lot. He also speaks Croatian very well. When he came to D├╝sseldorf, his coach, Mario Amizic, who is from Croatia, simply spoke Croatian with Vladi. So, recently Croatian news and TV reporter were quite surprised when Vladi suddenly gave the interviews in their own language after he had won the Croatia Pro Tour championships. When talking about table tennis, Vladi admits that he is fascinated by this sport and that he simply loves to play table tennis. He has no objections against the money he now earns with table tennis but this isn't the point. What he is really interested in is the game itself. Although being an absolutely sympathetic sportsman who fascinates his fans, he nevertheless is a somewhat shy young man.
He never seems arogant, wants to be kind to everybody, but certainly isn't an extrovert person. So, for instant he says that he is glad that he hadn't been selected sportsman of the year in his home country Belarus but merely was placed 5th. He there was outplaced by the very popular wrestlers and weight-lifters which was a relief for him. He doesn't like to stand in the spotlight, except on the table at important finals. Otherwise he prefers to be the nice guy from next door. To be a star would be the least thing he would like. However, when watching him at tournaments, one could see that he has never ending patience with kids surrounding him to get an autograph and also spends the necessary time to answer letters from his fans. Vladi is always friendly with journalists and TV commentators and always tries to do his best to answer their questions. Sometimes, one can see that he lifts the eyebrow as if he wants to ask embarrassed: 'is it really possible that I am asked such questions?'. Although being a professional who has to practise for hours every day and who also has to do a lot of travelling, he doesn't neglect school. He has already got his sports high school diploma and he is now about to successfully finish his 2 year studies at the university of sports. At the moment, he doesn't know himself yet what will come next but for the time being there is probably nothing more important for him than table tennis at breakfast, at lunch and at dinner.
He is very ambitious and feels that with the victories he achieved so far, with his first place on the world ranking list and the victory of the European Championships, he has not yet reached his final goal. Goals he is aiming for are victories at world championships and at the Olympic Games. He knows it will be difficult and he doesn't count on something in advance. All he wants is to play, give his best and hope it will be enough to win. Vladi uses the short time off he has for himself just as many other young people of his generation: he likes to go out, enjoys hard rock where he prefers Independent and Pearl Jam. There isn't a steady girl friend yet but many good friends instead.
Copyright ┬ę Tibhar